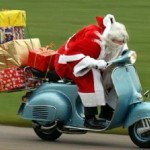 Christmas time is bargain time and it is not just Wal-mart and Amazon who want to clear their stock. Most of the retailers and manufacturers use the holy times to throw their things out, get ready for the next season and make the highest profit of the year. TuningMatters has therefore decided to give you an overview where to bring your money to. This is an ongoing article and will be updated throughout December. So make sure to have a look at it every once in a while and also follow us on Twitter or Facebook for the latest updates.
Scooter Attack
Scooter Attack has currently one of the best offers by giving away a Stage6 R/T bundle consisting of the 70cc R/T cylinder and the exhaust at 549€. This is an overall saving of 20%.
On top of that you'll also receive a free Thread-To-Head  action figure for every order of 150€ or more.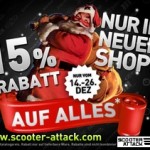 Scooter-Attack has just announced that they now offer every article at 15% off of their regular retail price. Starting today until the 26th (so there is still enough time to spend all you christmas money after boxing day / holy night :))
If you would like to support TuningMatters you are welcome to mention our Sidekick name 'TuningMatters' when ordering at Scooter Attack. More information can be found here.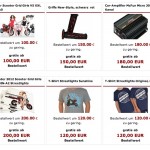 Street Lights
German scooter shop Street Lights offers free goodies on every order once it exceeds a certain volume. Their free articles go from stickers to soundboards and should have something for everyone. Check the free stuff here.
Scooter Kingz
SKZ goes classic this year with an advent calendar. However, some of their offers are ridiculously good (Polini Evo3 70cc cylinder for Piaggio at 245€ on the 4th!). The best thing is that you can already see what is offered on which day, Simply click on the date and a preview including the price will pop up. They also have fairing parts, exhausts and more available! Get it all here and make sure to mark your calendar to not miss out!
Scooter Center
 SC doesn't want to miss out. They also have an Advent Calendar with new things every day. A lot is for Vespas but they also have some scooter parts for maxi and 50cc every day. They already have some of the cheapest price on the web so its safe checking!
Sip Scootershop
Sip has some kind of blowout sale planned for Saturday the 17th. 20% on everything in stock. However, you have to be at their door step in Landsberg as the online shop is excluded from this special. Bugger… but their is also free booze!
Motoscoot.es 
Finally a non German shop is doing something to increase sales over Christmas. Motoscoot.es has just announced that everything will be 10% off from today until the 14th of January.
Descuento especial navidades! Aprovecha el 10% de descuento en todo el catálogo de Motoscoot. Sólo valido hasta el dia 14/01/2012! Felices fiestas a todos!
More and more are coming. Damsport now offers 20% offer until the second of January! I believe that this is great news for all our french readers.
That's it for now but as mentioned above we will regularly update this article throughout December and add the latest news to it. Keep in mind that especially in January a lot of shops send out vouchers usually worth 10-20% and that the new parts announced at EICMA are also just around the corner!
Follow us on Twitter or Facebook to receive the latest news immediately and send us a note if you've seen a Christmas deal that is worth mentioning here!