Earlier this year there were rumours on Facebook about a new Malossi 2013 version of their highly successful over range kit. Few weeks later and after a non answered e-mail to Malossi (they really need to work on their press relations… :-/) I received note about this new kit in my inbox:
NEW OVER RANGE MHR ALUMINUM MALOSSI: THE RED FURY

Kit Over Range MHR Aluminum Malossi: High Performance Scooter Transmission
The transmission is one of the key components in a scooter. The kit Malossi MHR Aluminum Over Range is designed to improve efficiency and engine power, ensuring longevity and tuning flexibility.

The centrepiece of the new kit Malossi variator transmission remains the Multivar, in constant evolution, which is accompanied by two sets of rollers to adjust the operation of the transmission according to your needs. With the wide range of variator rollers available in our catalogue, the set-ups are virtually endless.

The variator's sliding roller ramps have been redesigned to maximize the transmission's performance. Malossi, always searching for perfection, has also revised the hub, in addition to chrome plating and grinding, it is subjected to a vibratory finishing process, one of the most recent and avant-garde techniques, resulting in a mirror like finish.

For the first time, the variator Malossi MHR Aluminum Multivar is supplied with the fixed half pulley – Ventilvar.

On the other side of the crankcase there is the new Torque Driver – Malossi Aluminium Rear Pulley System MHR Aluminum, now in aluminium for lightness and strength increase. The pulley is riveted to the hubs for maximum strength and to reduce the tolerance between the hub and the bushing. The surface roughness is just Ra 0.4.

The Torque Driver is made of aluminium, a material with exceptional heat dissipation, and was subjected to a micro perforation process to increase transmission belt grip and to keep it clean and efficient, expelling from the holes any heat created contaminants.

The drive belt –Malossi X Kevlar Belt, based on the technology developed for the maxi-scooter belts, has an extremely small cross section and intended for two-stroke scooter racing, guaranteeing grip and consistent performance.

The revolutionary scooter transmission kit – Over Range Malossi MHR Aluminum will soon be available at all Malossi dealers and online at Malossi Store.

€ 335.00 – € 345.00
Additionally Malossi notes that when you are running a Minarelli engine with a Malossi crankshaft it is required to install an additional fixed coder/hub kit for the variator: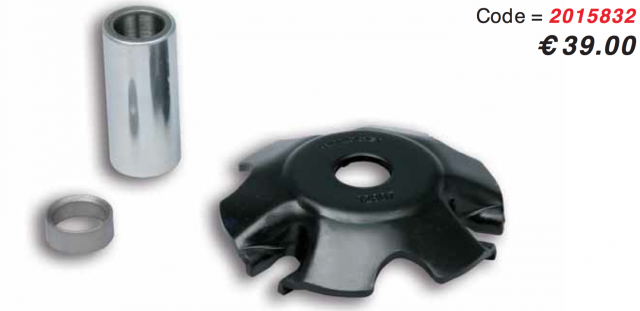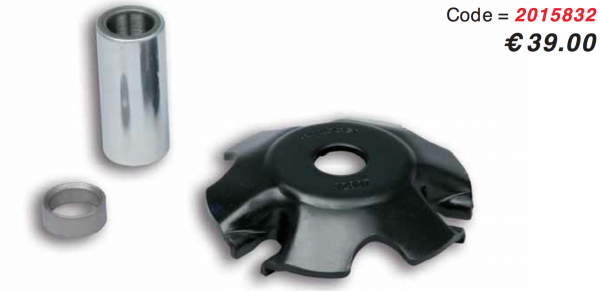 If your vehicle is equipped with Malossi crankshaft (art. 5312810 – 5313275 – 5314548), must replace original fixed cover and hub with those included into this kit, in order to install Multivar 2000 MHR Aluminum (art. 5115823):

FIXED COVER / HUB KIT FOR MALOSSI CRANKSHAFT.

Code = 2015832 € 39.00
The Piaggio version is available now at your favourite Malossi dealer. The Minarelli Overrange kit will follow later this year!