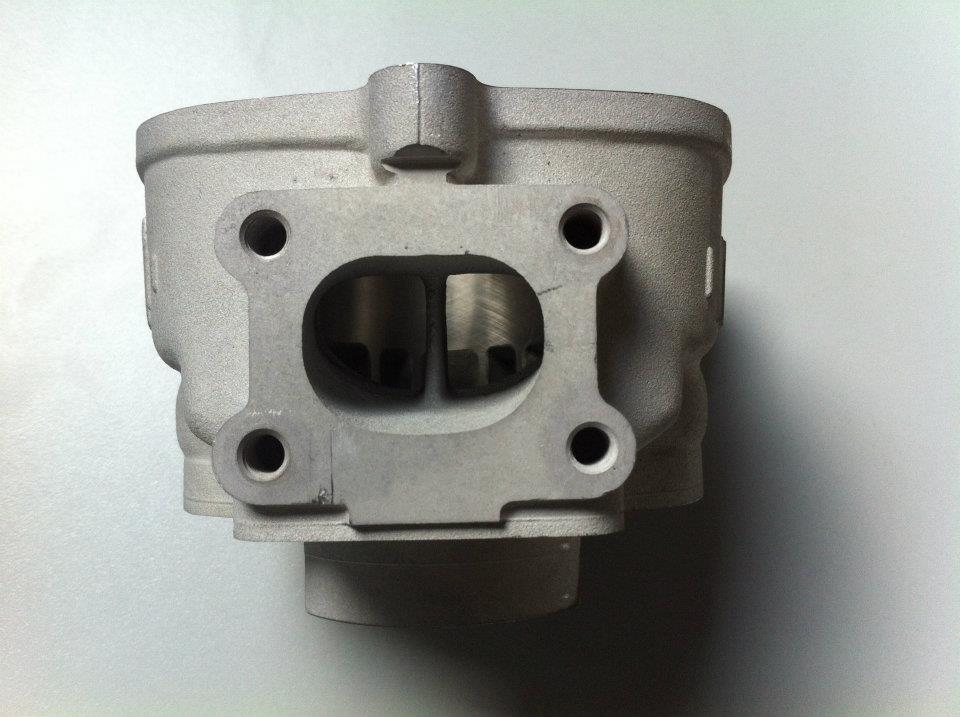 Malossi Deutschland posted some new and interesting pictures about the upcoming MHR Team II 2012 70cc cylinder kit on their Facebook page. It remains tough for Malossi to compete with the almighty Stage6 R/T kit and its advanced (and expensive to manufacture) design. However Malossi got some aces up their sleeves and it seems that they are about to start the Gilette vs. Wilkinson marketing game, by introducing the 4th exhaust port screw.
What's new
As mentioned above the newly designed exhaust port flange is the first you will notice when looking at the MHR Team 2012. It is also not very surprising as the concept of the Malossi cylinder kit remains the same with a modular cylinder head (no changes to the design) and a single piece barrel.
However, according to Malossi Deutschland there were slight changes in the boost port design and a completely new designed T-shaped exhaust port. Especially the exhaust port is believed to tremendously increase the performance by using a new flange design.
Exhaust port
As you can see on the picture the exhaust port on the outer side of the cylinder remains oval and only changes into a round design at the exhaust flange stage. You can do the grammar but I believe this allows a higher throughput of the gases leaving and entering (resonance) the cylinder kit again.
Until the individual exhaust manufacturers come up with a matching pipe (looking at you Roost) the MHR Team 2 2012 can only be used with the Malossi MHR Team 2012 exhaust.
What else
Besides that the MHR Team 2 2012 cylinder kit remains similar to the 2010(?) version featuring 7 transfer ports, a modular cylinder head, 85mm stroke and an extra thick cylinder foot (this means you have to increase the diameter of your engine case to 56,5mm).
Conclusion
Malossi is stepping up their game with a new design that until it is proven wrong might be the next big thing in high-end scooter tuning. Keeping the other specs like port design and cylinder head unchanged can be accepted (why change something that is already perfect). It is however disappointing that Malossi do not step up their game a bit. With the Stage6 R/T in the field and even Polini coming up with a new overall design Malossi falls behind the big three when it comes to looks and smart details. The Malossi remains also the most expensive kit on the market (even though the Stage6 R/T goes away for nearly twice as much when sold second hand on eBay compared to a used MHR Team) leaving you with a hole in your pocket and a very good performance but not much else.
Gallery