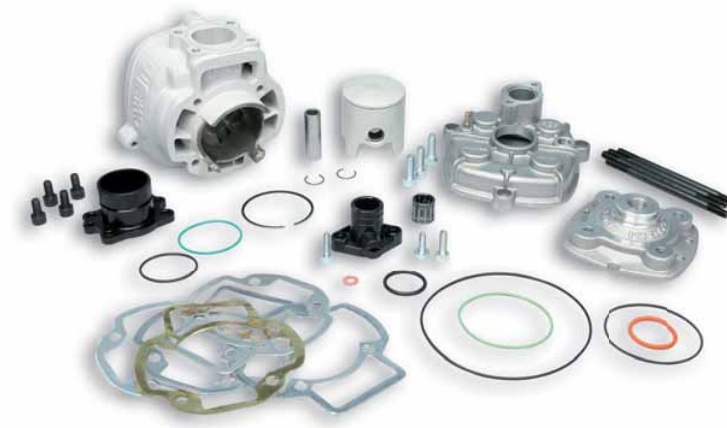 Malossi today announced two new products, the new 2012 version of the MHR Team II cylinder kit and a new high performance roller bearing set specifically made for racing engines. Read all about the details of its new flagship cylinder kit the MHR Team II 2012 and the SKF x Malossi bearings below.
Malossi MHR Team II 2012
We discussed the MHR Team 2012 quite a bit earlier with exclusive pictures from Malossi Germany and others. Now its finally available and the good news is that it come in two version. A regular version at 376€ and a Team Factory version priced at jaw dropping 689€. We discussed the innovations of the 2012 model quite a bit already here. The whole release basically focuses on the new outlet design that should tremendously increase the power of the kit. Unfortunately the only compatible exhaust for now is of course the Malossi MHR Team exhaust.
The Team Factory was available earlier already for other Malossi cylinders like the Big Bore kit. It is basically a factory tuned version of the cylinder kit. Here are the official words about that from Malossi:
Race Ready – Hand Finished
The Best of Malossi's Cylinder Kits
Team Factory, the synthesis of many years of racing research and development, is a special product line of cylinder kits from Malossi, handmade in limited quantities, and intended solely for scooter racing. The new cylinder kits Team Factory are the result of further development and refinement of Malossi products specifically selected and developed for the Malossi Trophy. Extreme attention is paid to the machining of these products, so much so that they show the full potential of Malossi's research and experience, from material selection to production processes, the level of precision to the rigorous final quality testing.
The cylinder is one of the most important and most complex parts that make up the kit Trophy.
The port and exhaust diagram values must be within tolerances of 5 hundredths of a millimetre. To obtain these infinitesimal values it is essential to tweak both exhaust and transfer ports one by one, with dental tools, which only expert technicians can perform.
Only perfect cylinders, subjected to the most sophisticated and rigorous controls, become Malossi Team Factory. The cylinder and piston coupling is strictly maintained within a tolerance of 5 microns, the roundness of the cylinder within 5 microns and the cylinder bore may not exceed the second-class selection.
Even the compound head is machined and subjected to very stringent quality tests, intended to check mainly the squish and compression.
Art. 3115142
ALUM-CYL. KIT Ø 47,6 H2O 7T MHR TEAM II modul-head
Art. 3115142.T0
TEAM FACTORY ALUM-CYL. KIT Ø 47,6 H2O 7T MHR II modul-head
Technical Features
– Cylinder: aluminium, alloy of silicon and copper, gravity cast, hardened and tempered with a hardness of 100-110 Brinell. Machined in-house at Malossi with high-precision machining centres.Cylinder with Cermetal protective coating, Vickers hardness 600/630, 30 degree criss-cross honing and roundness within 5 microns.
– Piston: aluminium alloy with 18% of silicon, racing version, reinforced, hardened and stress relieved, special profile and single ring.
– Piston Ring: high strength stainless steel alloy 0.8 mm (ref. 3115142.T0) / 1 mm (ref. 3115142) with chromed and lapped sliding surface.
– Piston Pin: Aerospace quality FADH hardened steel, ground and polished.
– Head: aluminium alloy with 9% silicon, gravity cast, annealed and aged, manufactured on machining centres with a tolerance of one hundredth of a millimetre.
– Head Cover: Cast aluminium alloy with 12% silicon with Viton O-ring seal.
You can download the whole spec sheet here.
SKF x Malossi Roller Bearings
Slightly less ground breaking but noteworthy is the new roller bearing series allowing for up to 20.000 rpm (not that you will ever reach this) developed together with French bearing specialist SKF. The MHR kit is probably the most expensive scooter bearing ever made and will cost you 82€!
Rigid radial ball bearings with oversized spherical rollers and increased operating load, developed for racing endothermic engines with higher power than 30 Kw and speed up to 18.000/20.000 RPM.
In co-operation with Malossi Engineering R&D department, SKF optimized a new kind of special bearings for two and four stroke scooters and motorcycles competing in the Malossi Trophy series.
Technicians and field specialists welcomed with enthusiasm this further technical progress, which
guarantees higher reliability and performance increase.
Technical Specifications
• Material: high quality 100Cr6 steel alloy
• Polyamide spherical roller cages: light, noiseless, with lowest damping factor
• High precision: C3 H – C4 H tolerances
• Art. 6614105EA – Ø 20x52x12 special roller bearing for tuned scooters based on Piaggio 50 cc., with carbonitrided inner ring, polyamide cage and special outer ring, further modified by Malossi in order to improve lubrication.
The spec sheet is available here.