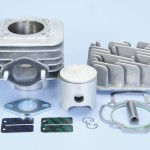 Introduction
Polini is steadily improving their portfolio, making the world a better place. They now came up with a new aluminium cylinder featuring a 'Gilnisil' coating. Gilnisil is Gilardoni's very own Nikasil coating.
Additionally Polini released a new Evolution reed valve for the big bore cylinder kits. Read more about that below.
Polini AC 70cc aluminum cylinder kit
Here's the official word:
For those who wish to take part to the on track races using scooters equipped with Piaggio engines, Polini Motori has renewed the Ø 47,6 For Race aluminium kit. The displacement increase, permitted by European regulations for on-track races, significantly improves the various characteristics: pickup, acceleration, sprint, maximum speed and pull at low-medium revs. 

The cylinder, cast in light alloy, offers maximum performance even at high operating temperatures and better dissipates heat maintaining its mechanical tolerances extraordinarily well. The barrel has a 47.6 mm bore with "Gilnisil" coating. There are six transfer ports . The exhaust port has a new Booster shape that replaces the old W one to optimise the evacuation of combustion gases. The piston, gravity cast at high silicon content light alloy, is fitted with an "S10" chromed cast iron piston ring. The head, light alloy die-cast, grants a perfect seal and eliminates detonations problems thanks to its perfect squish. 

Polini SKU: 140.0214 
RRP: 189 Euros (+VAT)
100% Made in Italy
More information about this cylinder can be found here.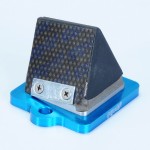 Polini Evolution Big Bore valve reed
Additionally they have released an uprated Polini Evolution Big reed valve. I like the anodised colour but would like to see more variations from Polini. It would also be interesting what additional tuning opportunities this new piece gives. Some more pictures would have helped but who am I to ask for this…
More air, more mixture, more power for the new reed valve for the Big Evolution engines. The reed valve, vulcanized with selected rubber mixture specific to resist to the patrols, mixtures and high working temperatures, has the carbon reed of th. 0,3 mm. The fixing plate is machined from solid anodized aluminum. It fits the Piaggio engines but the crankcases need to be bored and it is suggested assembling the feed system of 24, 26 or 28mm. 

Part no. 213.0055
Sale price euro 54,50 + VAT
Instructions and more can be found here.
For more Polini scooter performance parts, take a look here.