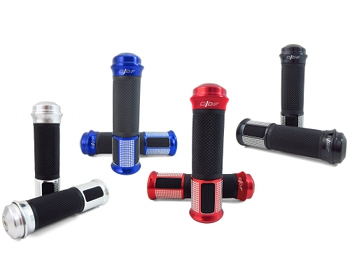 Scooter customizing has undergone a huge change in recent years. I remember the times when customising consisted of polishing your engine cover and painting your scooter in a different colour. Nowadays the marke tis flooded with custom body parts for your scooter mainly coming from China but there are a few brands that take customising serious and try to push the boundaries. One of them is Opticparts DF from Germany.
Opticparts DF came up with a new set of handle grips which feature a CNC finish. Something new to me in the Scooter world. Read all about it in their press announcement below:

TC-Line CNC-Grips "Type I" by ODF.

Handle grips by ODF from the new TC-Line (Top Custom Line) which is a synonym for styling parts with uncompromising design and high-end quality.

Special characteristics of these grips are the CNC milled metal-ends as far as the metal handpiece with its rubber-windows, thus guarantees comfortable handling and a very ingenious look.

Thanks to the milled dots and the laser printed ODF-Logos, a high quality overall impression is given.
I certainly like the looks and even consider using a pair on my current project. The grips are available for 17,50€ at your local Opticparts DF retailer. Certainly an alternative to the usual grips and reasonably priced (considering they are handmade in Germany)!
 Over to you
What is your stance on customising? Have you bought custom equipment recently or do you rather invest into a fast engine? What is the police saying to fancy custom scooters in your country? Let us know in the comments!