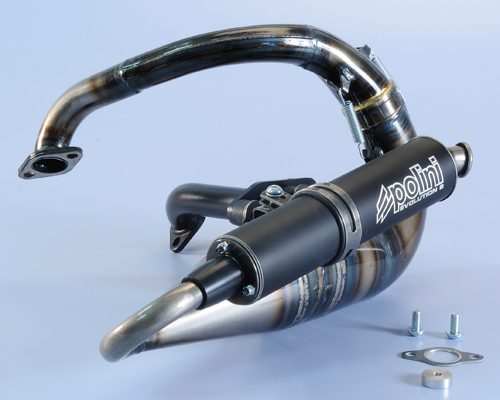 Polini just announced a new version of their Piaggio Ape 50 Evolution exhaust. The Evolution2 features improvements that are promised to result in a faster acceleration and a higher speed. Given the looks of the exhaust it certainly looks fast!
I am personally a big fan of the Ape models and am looking forward to someday owning one. It is good to know that Polini seems to own one too and is taking care of the tuners needs :)
Read all the official words from Polini below.
EVOLUTION 2 MUFFLER for PIAGGIO APE 50:
FLYING APE

Polini Motori continues with the research for Piaggio Ape 50 with its newly developed "EVOLUTION 2" muffler.

It is possible to fit the muffler both together with the upgraded cylinder kit for Vespa 50 and 125.
The main technical features are:

Exhaust manifold flange with 2 holes to couple perfectly with the new cylinder and avoid possible gas escaping and power loss.
Completely handmade, it has 5 expansions cones, one silencer curve and one manifold flange.
The silencer, made of black anodized aluminum is slightly longer to contain noise and varies in the internal diameter which is bigger to improve the acceleration. The base is detachable to replace the deadening material.
All these features, not included in the Evolution 1 model, improve the general engine performance, both in acceleration and in speed, for a fun drive at all the circuits.


Part no. 200.0292
Sale price: euro 292,00 + VAT

100% MADE IN ITALY
What do you think about the Piaggio Ape? Are they popular in your country? Have you ever ridden one? Let us know in the comments!