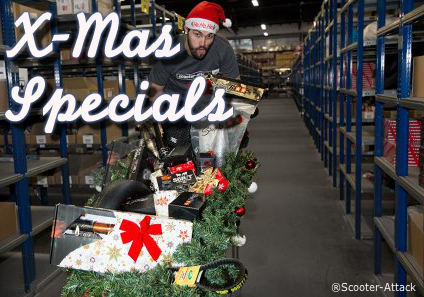 As every year I am happy to announce the X-Mas specials of the different online shops here on Tuningmatters.com – Christmas is the one time of the year everyone is throwing his money at retailers and of course the scooter industry is interested in receiving their share of this as well so here it is the discount overview of X-Mas 2012 – right after the click.
I'll start with Scooter-Center Cologne this year as I find them to have the best offer this year. It is a 20% off voucher on a single order. I agree that other offers sound as if they have to offer more but at the end of the day I am sure that you will all agree that 20% off on any iem you choose is one of the best deals at the end. Simply use the following discount code during checkout: 20xmas
The voucher is valid until the 31st of December so you are good to go and wait until you have received the Christmas money.
Our second most favourite deal is coming from our friends at Scooter-Attack.com and is actually split into two goodies.
First of all Scooter-Attack runs a raffle in which every user who places an order between now and Christmas automatically takes place. Here's the official statement:
Raffle

---

In addition to our daily special offers, we'll raffle a truly unique present among all orders
placed from Germany between 1 and 21. December!

We'll invite the winner to come visit us and send him with a shopping cart
through our warehouse, where he can choose parts worth 1.500 Euro!

Not even Santa Claus himself can offer you this!

We will announce the lucky winner on 24 December on our Facebook page

http://www.facebook.com/scooter.attack

and invite him to visit us next year!

Employees of Scooter-Attack GmbH and their relatives are not eligible to win.
Their second christmas special is an advent calendar with changing specials every day. You will need to visit the Scooter-Attack online shop and then choose your scooter model. The christmas offers will then have its own category in the parts list on the left.
Also I stole their shot for the picture up there… please don't sue.
The guys at Streetlights.de have reduced their whole stock by 15%. This offer is valid until 16th of December so I suspect them to have an even better special upcoming then. I am looking forward to this.
Our friends at Racing-Planet.de have launched an advent calendar in form of a Facebook app. It offers some substantial discounts and is well worth checking. Find it here!
Last but not least is HeavyTuned.de who run a daily advent calendar. Last year they've had some great products behind their doors. So it's definitely worth it to have a look at their daily specials or sneak peek into what's coming in the next days on their front page.
Have you seen additional specials? Let us know in the comments or on Facebook.com/TuningMatters