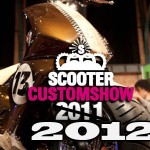 Scooter Attack opened the registration for the 2012 Scooter Custom show to the public. The show will take place in Saarbrücken (Scooter Attacks homebase) on the 10th of March 2012. As always there are different categories in which customers from all over Europe compete with each other. Read about the details below and have a look at some pictures from last year.
The 8th international Scooter Custom show will take place on the 10th of March in Saarbrücken, Germany. You can sign up for it free of charge HERE and compete in 12 categories divided into standard and special:
Best Race Look
the scooter in the hottest racing design

Best Sprinter 
the most wicked dragster

Best Streetracer
The coolest scooter with road homologation

Best Artwork & Fairing
the most beautiful and elaborate bodywork

Best Shining
Der scoot with the most chrome/gold applications

Best Audio & Electrix
the most awesome light and sound show

Best Facelift 
the most stylish and classy scooter

Best Dealer Demonstrator 
the hottest dealer demonstration model

In these categories, we award prizes for places 1 to 3. Dealers automatically participate in the category "best dealer demonstrator" and are excluded from all other categories.
Best of Show
the best scooter of the whole customshow

Best Newcomer
the best new project

Best Presentation
the most creative presentation

Best Brainchild
the most unique idea

In each of these categories, there can only be one winner. The category "best brainchild" is an open one, i.e. we will award a prize only if someone manages to sweep us off our feet.
Of course TuningMatters.com will be down there to bring you the latest footage in scooter style and customizing.
If you plan to participate get in touch with us! We would like to interview you and write an article about your exhibited scooter.
Custom Show 2011 Video
Find below some snapshots from last year taken by Mr Hood for Streetbuzz.net: