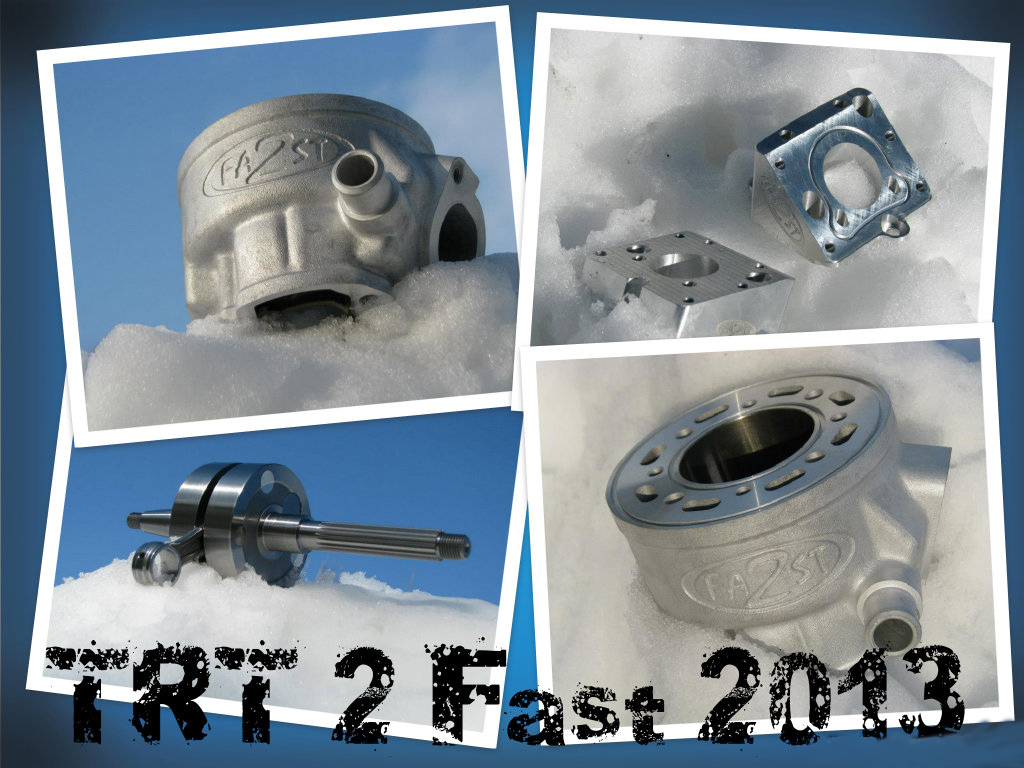 Renown Scooter Shop, Racing Team and Stage6 Developer TRT 2 Fast don't sleep. They've been working hard to present the 2013 Product LineUp which includes the long anticipated 94cc Cylinder Kit for Minarelli engines as well as some other goodies. Read more about it below…
TRT 2 Fast 94cc Cylinder Kit Minarelli
TRT aren't sleeping and after announcing the 70cc model last year (read about it here) they now bring us the brand new BigBore cylinder kit for Minarelli 50cc engines. It features 94cc in combination with a 44mm stroke and 90mm conrod length crank shaft. The kit ships with a forged and coated piston and a CNC'd cylinder head that looks similar to the one used on the Stage6 R/T cylinder kit. It is unconfirmed but similar to the R/T we assume that besides milling the crankshaft housing it is also required to mill the cylinder foot housing in order to fit this kit to a stock engine.
What's particularly interesting about this kit is its huge transfer ports and the V shaped exhaust port. The transfers push the engine to the max and require the engine housing to be ported to the minimum thickness of 1.5mm (as shown in the picture below). If you weld some extra material on the engine housing there is even some room left for further porting the cylinder transfers.
We are looking forward to the Dyno results and a comparison with the Stage6 R/T BigBore!
TRT 2 Fast 44mm / 90mm Crankshaft
As mentioned above the 94cc cylinder kit requires a long stroke crankshaft with 44mm stroke and 90mm con rod length. The crankshaft looks similar to the R/T BigBore model and is probably assembled at the same factory. It is unclear if this one also requires a 14mm gudgeon pin but I assume it does…
TRT 2 Fast 77cc Cylinder Kit Minarelli
Besides the 94cc BigBore Kit, TRT also releases a smaller 77cc version. The mould seems to be similar to the 94cc version it however ships with a smaller non coated piston (12mm gudgeon pin assumed). It probably requires some milling on the housing to fit the cylinder foot but can then be used with a regular 40mm stroke crankshaft.
TRT 2 Fast CNC Intake Spacer
Another item to look forward to in 2013 is the newly designed Intake Spacer by TRT for Minarelli engines. Instead of simply making one design to match most carb sizes (e.g. Stage6 R/T spacer with 28mm diameter). TRT goes the extra step and offers CNC milled intakes exactly matching the carb diameter. The picture above shows the 28, 30 and 34mm models. There will be a 32mm model as well.
TRT also customizes (what seems to be) the Stage6 R/T manifold to match the intake diameters (check the pictures below). As with the CNC Intake, those will be available in 28, 30, 32 and 34mm dia.
TRT 2 Fast CNC Outlet Flange
The CNC outlet flange for Minarelli and Piaggio engines does not only allow for a perfect fit of the exhaust to the cylinder but it also ensure accurate match of the outlet port shape. A CNC item is much more durable and stable than a welded piece. This is currently confirmed for the 70cc TRT 2 Fast model but is believed to also match the outlets of the BigBore models above.
TRT 2 Fast CNC Rear Pulley Piaggio / Minarelli
Last but not least TRT is presenting us this (believed to be) prototype CNC rear pulley for Piaggio and Minarelli engines. CNC machined pulley halves are more stable than the regular pressed ones and can be manufactured much more accurately. There is not much known about those right now but they are believed to be overrange (increased diamater) and therefore need to be used along with an overrange variator and belt.
There you have it! After a relatively slow 2012 it seems that the interest in scooter tuning has risen again (at least in the high end section). And there will be more!
We just spotted a prototype for a rear pulley by Malossi and we know by fact that the guys over at Roost Exhaust systems are working on an Ultra High End Cylinder Kit.
What is your biggest wish for 2013? Let us know in the comments!