After our very successful last article (read the Scooter Tuning Exhaust Test 70cc Sport here) that was focusing on sport and mid race exhausts I am very happy to share with you the last part of the scooter tuning exhaust test that focuses on the high end racing exhausts namely the:
Roost Track-Type
Stage6 R1400
Hebo HR5
Yasuni Carrera C30
R-Setup 14k
The Source
As mentioned in the earlier article, the source for these test results was a German print magazine called Streetbuzz. Unfortunately they shut their doors after the release of the 9th mag in 2010.
The given test results represent the outcome of the Streetbuzz mag. I applied my personal opinion to the data sheets and added some words, from my personal experiences with these exhausts.
The Setup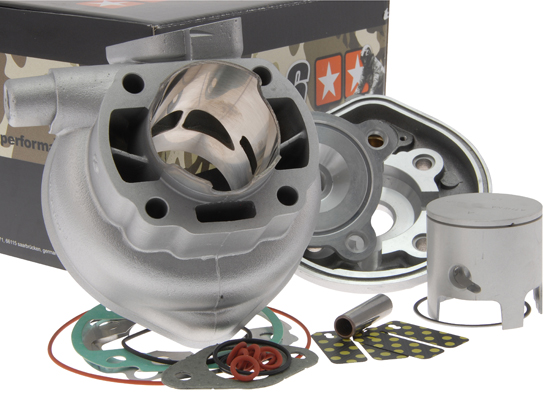 In the old test it was tried to recreate a common street setup. For testing real racing scooter tuning exhausts this would have not made a lot of sense. Therefore the Yamaha Aerox engine (Minarelli LC) was replaced with a Stage6 racing engine consisting of the following parts:
Stage6 Racing MK1 cylinder kit (Minarelli LC)
Stage6 R/T intake system
Stage6 R/T inner rotor ignition
Stage6 R/T VHST 24mm carburetor (Dellorto)
Stage6 R/T crankshaft with 85mm stroke
The variomatic system has been blocked for the tests, to allow an analysis of the real power band of the various scooter tuning exhausts.
Test Results
For all those who can't wait I've created this table giving you a quick overview about the scooter tuning exhaust test results.

| Manufacturer | ModelName | Max.Power | Revenue/minute | Max.Torque | Homologated (Street Legal) | Street Price | Notes |
| --- | --- | --- | --- | --- | --- | --- | --- |
| Hebo | HR 5 | 18 hp | 12,078 rpm | 10.6 Nm | No | 400€ | |
| R-Setup | 14k | 18.1 hp | 11,126 rpm | 11.4 Nm | No | 250€ | Price-performance winner |
| Roost | Track-Type | 18.2 hp | 11,580 rpm | 11.0 Nm | No | 300€ | |
| Stage6 | R1400 | 18.2 hp | 13,249 rpm | 10.0 Nm | No | 300€ | Highest rpm in the test |
| Yasuni | Carrera C30 | 18.4 hp | 11,288 rpm | 11.8 Nm | No | 390€ | Overall-performance winner |
Scooter Tuning Exhaust Test 70cc Racing
Hebo HR 5
The Hebo exhaust has by now been discontinued. It shows a very wide power band which makes it a bit easier to setup the transmission. The little dip at 10-11.000 rpm shows a design flaw of the exhaust and in combination with the low torque the exhaust is also placed last in our test.
18hp / 10.6Nm / 400€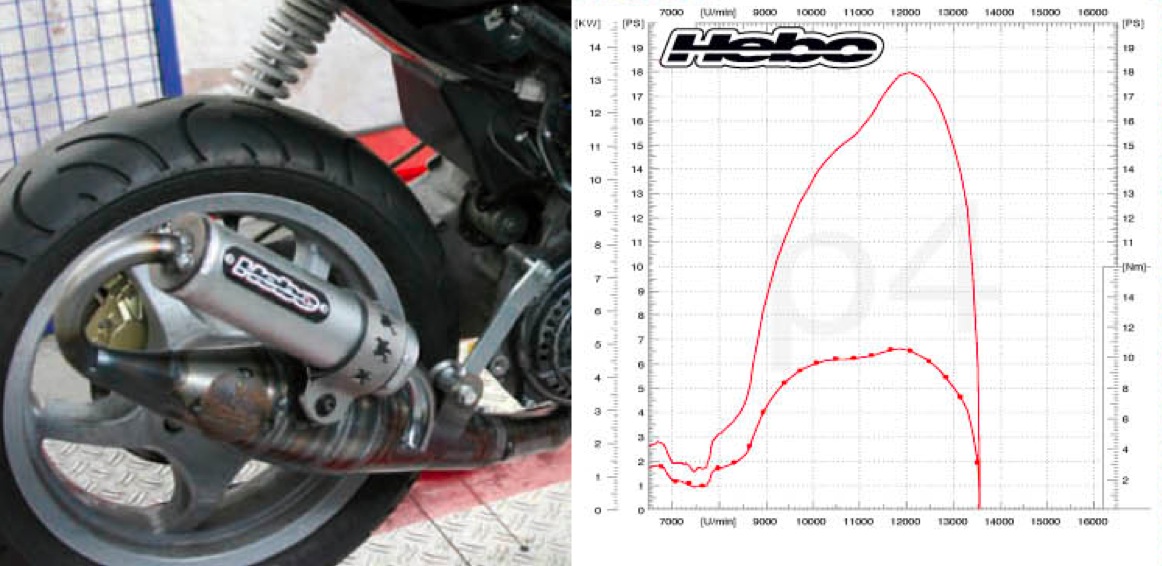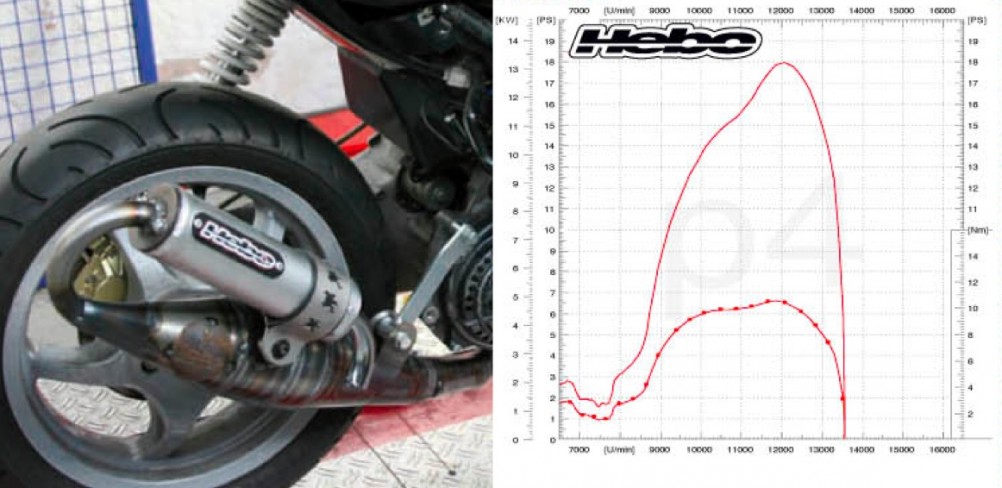 ---
R-Setup 14k
Another discontinued exhaust on the market that performs unsurprisingly well in combination with the Stage6 Racing MK1 cylinder kit. This is not a surprise as the R-Setup was selling a similar cylinder kit (also made by Athena) for which this exhaust was made. You can see a very pretty power band (actually the best in the test) and at such a low price this exhaust was a bargain. When searching the net you can still find some of them floating around.
18.1hp / 11.4Nm / 250€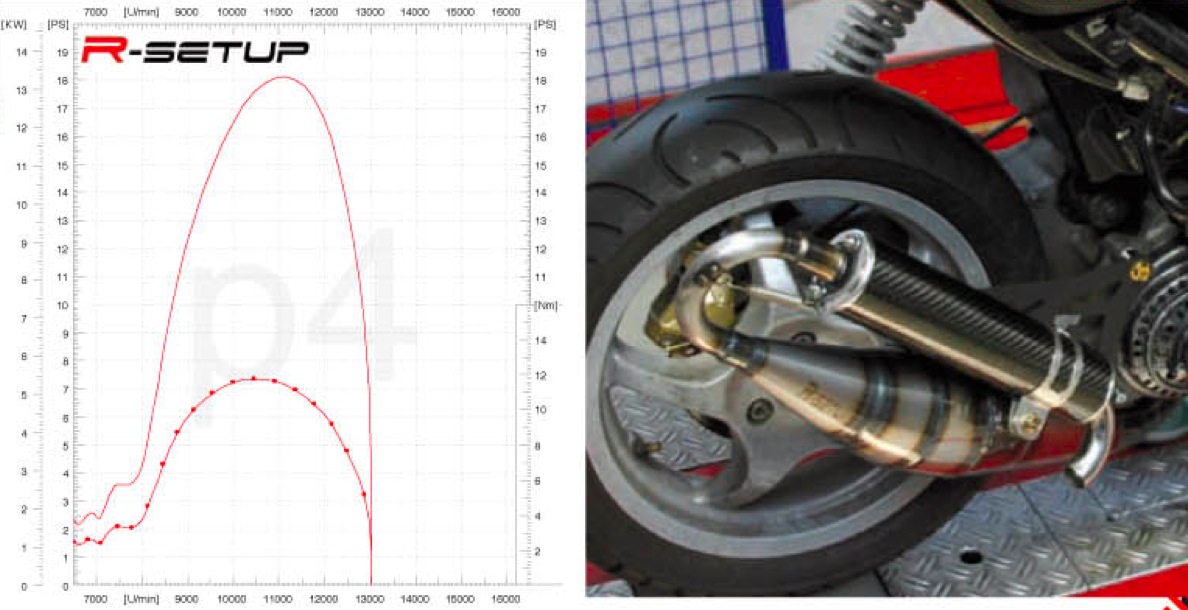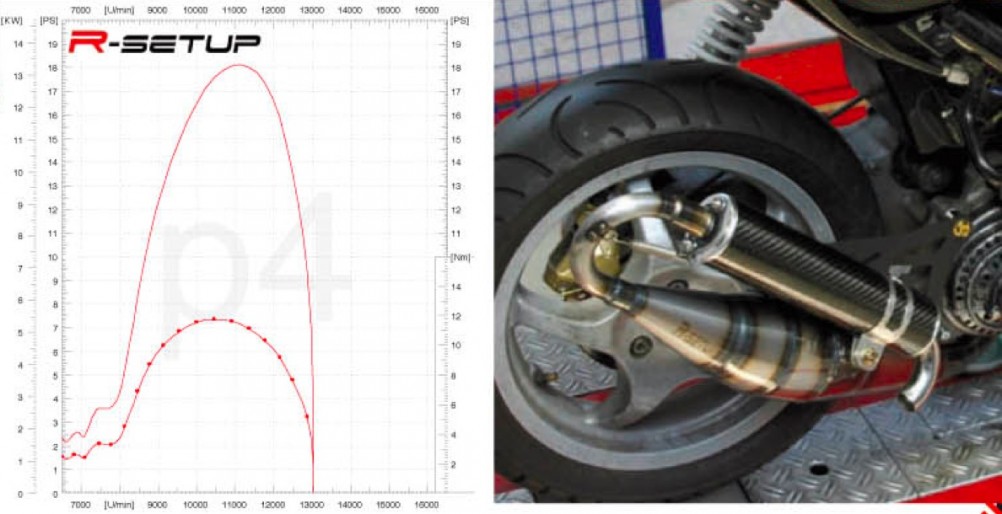 ---
Roost Track-Type
The Roost exhausts have a very good reputation in the scooter world and you can see them mostly on the drag racers nowadays. The track type was made for the circuit and performs well with a lot of torque. Unfortunately it has been discontinued by now.
18.2hp / 11.0Nm / 300€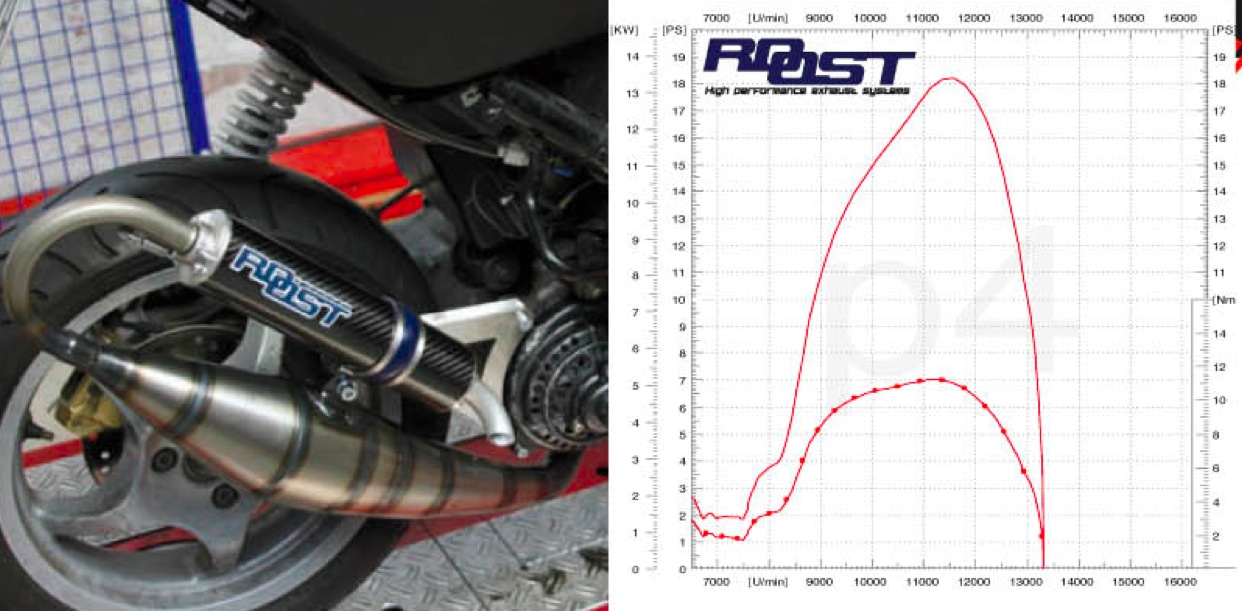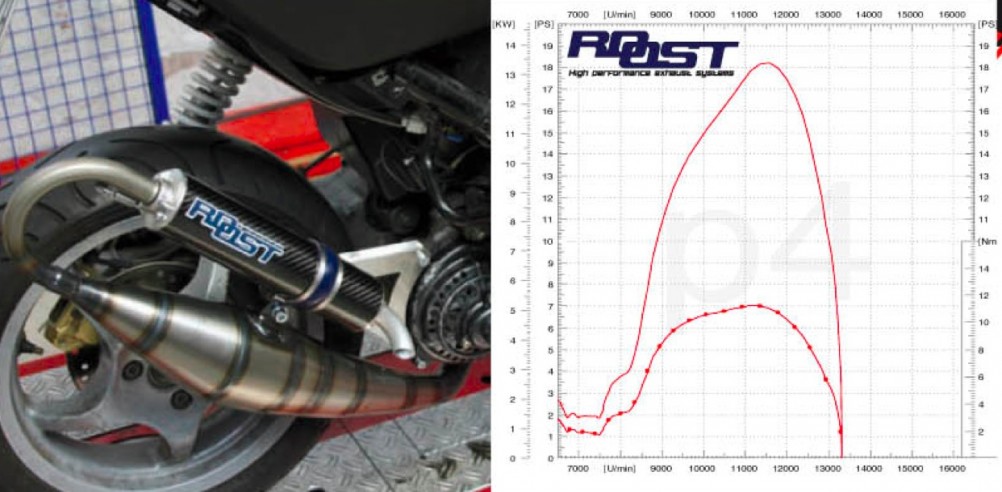 ---
Stage6 R1400
The Stage6 is a rev-monster going up to 15k and having its max power at 13,249rpm. In combination with the good build quality you have a monster here that can be driven on the wildest ported engines. Still torque is a bit low which requires an exact setup of the other components however the wide power band helps you with the setup a lot.
18.2hp / 10.0Nm / 300€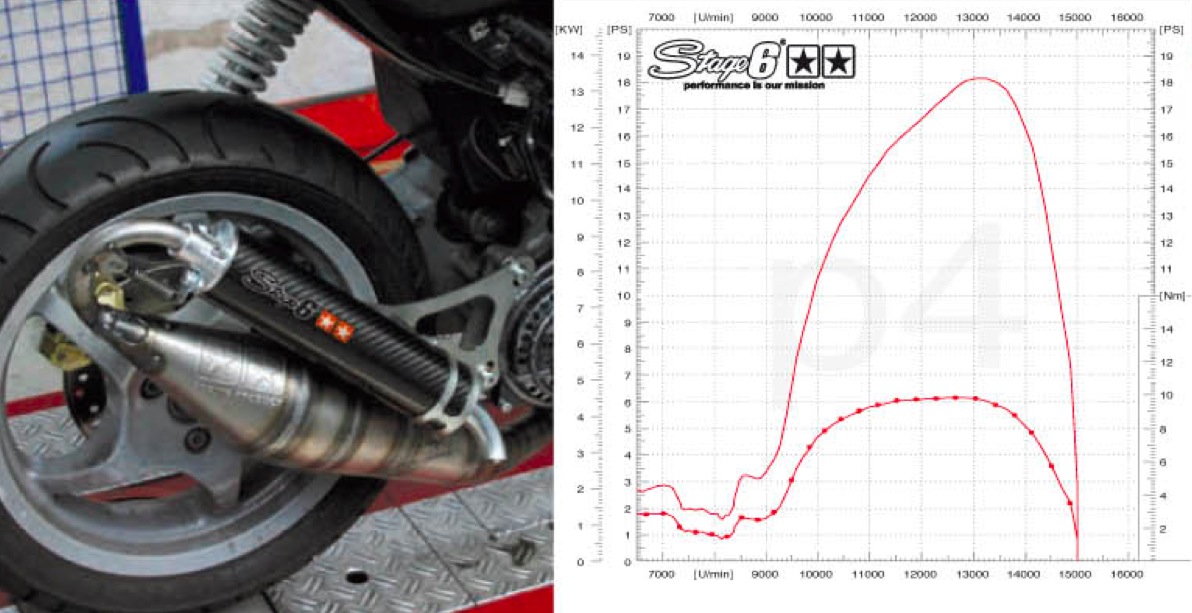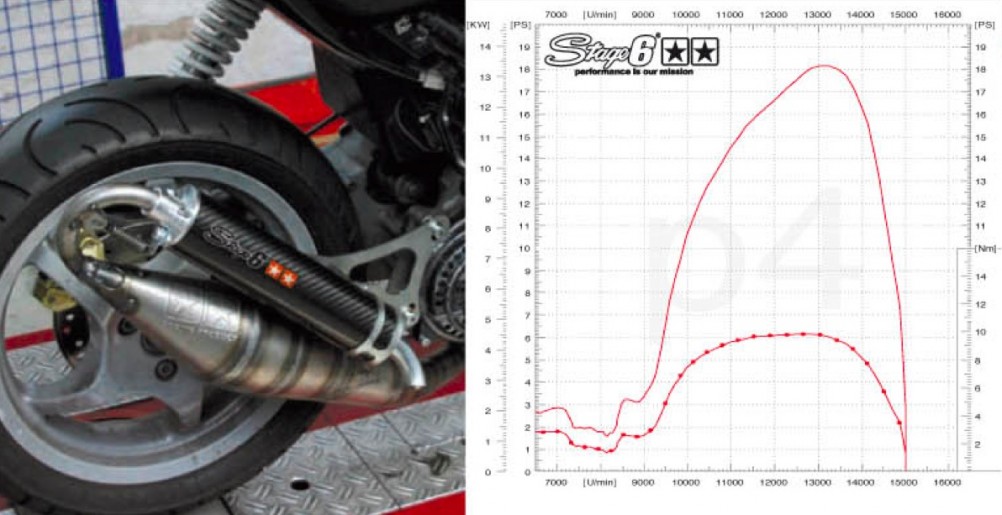 ---
Yasuni Carrera C30
The winner of our scooter tuning exhaust test is the Yasuni C30 with a phenomenal 11.8Nm of torque and 18.4hp you get what you pay for. The torque is a available over a wide power band the max hp however is a bit narrow which again requires some adjustments to the roller weights. Together with the R-Setup you get the nicest power band of the tested exhausts and also won't be disappointed by the build quality.
18.4hp / 11.8Nm / 390€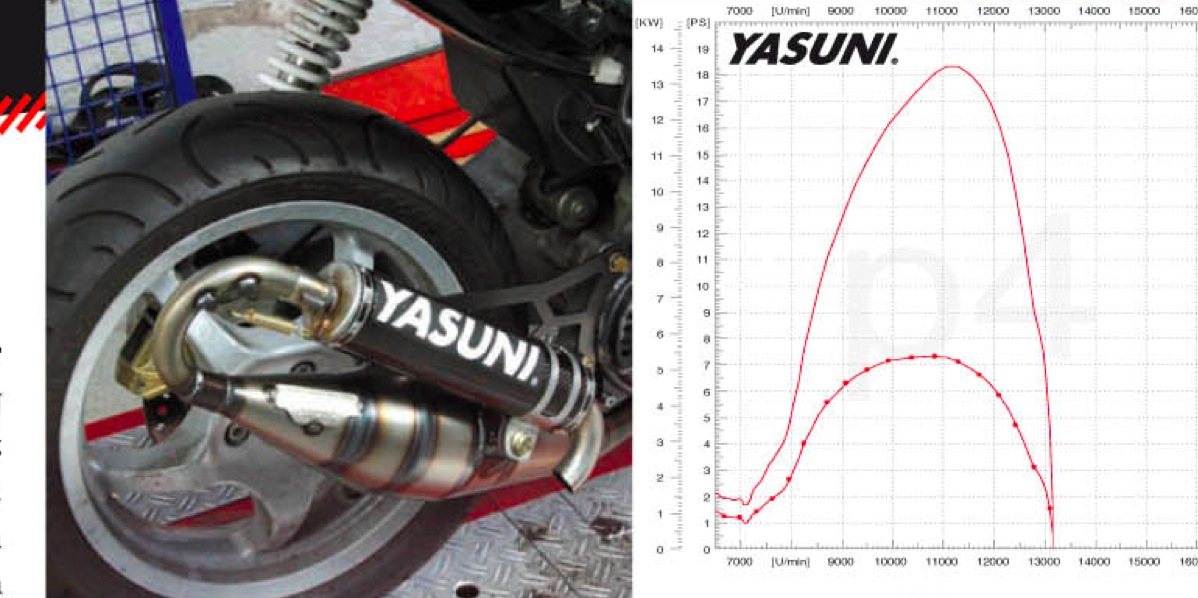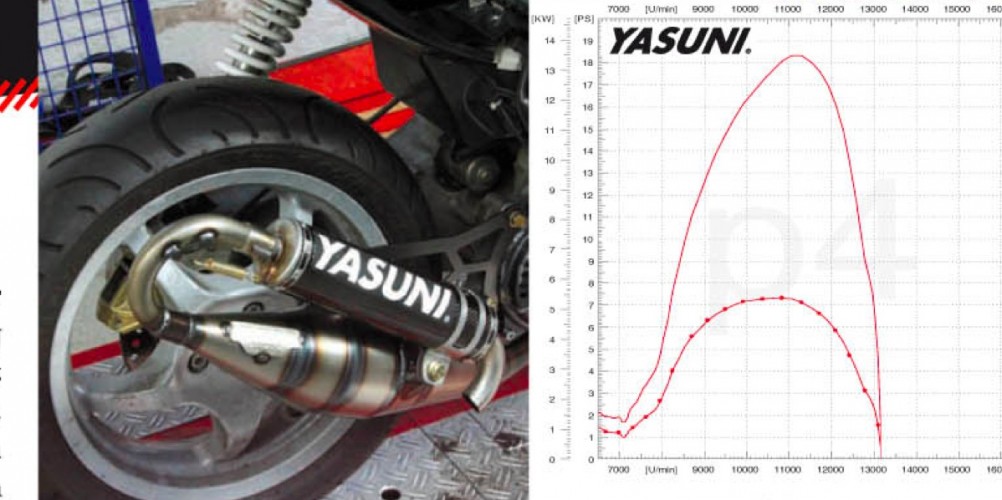 ---
Conclusion
I ultimately decided to choose a winner in two categories for this scooter tuning exhaust test. One is the overall winner based on performance and the second price is given to the price performance winner. Please keep in mind that performance might vary a lot, depending on the components you use. The winners here might perform great on the tested engine and cylinder kit. Running another cylinder kit however might give you different results.
Also, always ensure to setup your carburator and variomatics correctly, when changing engine components on your scooter!
Overall Performance Winner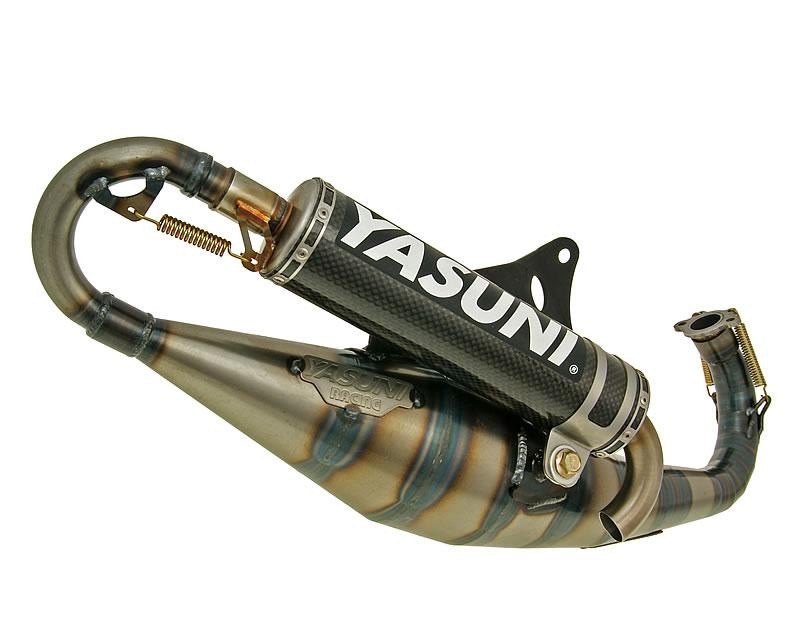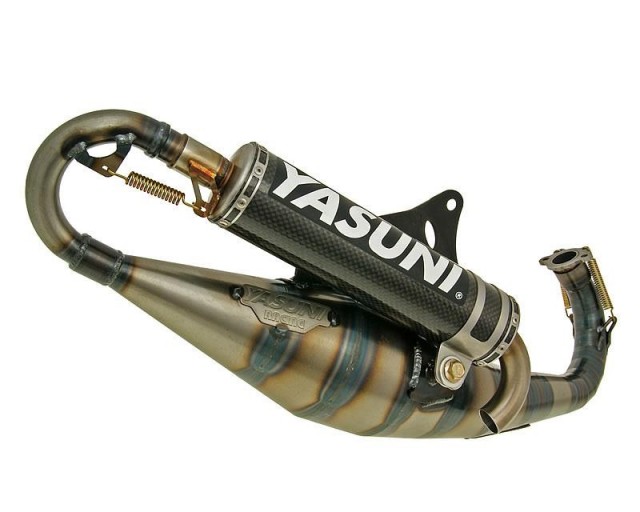 The overall performance winner of the scooter tuning exhaust test is the Yasuni Carrera C30. It shows a nice power band in combination with the highest torque and horse power. As always, high end won't come you cheap.
Price-Performance Winner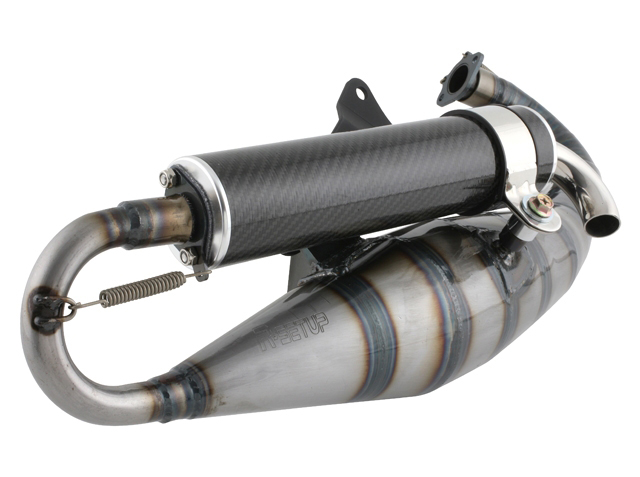 It was hard to make a decision here as the Stage6 R1400 also performs incredibly well. Ultimately however this price goes to the R-Setup 14k. This exhaust gives you and excellent power band and a very high torque. Rev per minutes aren't ridiculous high, which allows this exhaust also to be used with more stable cylinder kits like a Sport Pro MK2 (with some porting applied). It is also available at a great price, if you can still find it! Too bad that the R-Setup marketing machinery did such a bad job, as this exhaust for sure has the power to twist some heads and won't break your bank account.
Over to you
What are your favourite exhaust systems. Have you used any of the above mentioned exhaust? How about the new exhausts on the market? Share your knowledge in the comments and start a discussion about the best exhaust on the market!