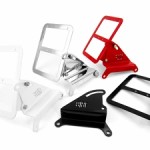 Some of you might have not yet heard of Opticparts DF, a German company run by Dominic Finke specializing in visual goodies for your favourite scooter. They make all kind of things including breath taking head lights and front covers (check the Gilera Runner one!) but also smart tools like an all in one variomatics and clutch holder that also serves as a wrench for the 34mm clutch nut. On top of that the quality is great and it comes at a affordable price.
They have just released number plate holders for vertical Peugeot and CPI/Keeway engines. Find the official talks below (and if you want your new announcements listed on this page as well you better send them in… ;)):
TC-Line Numberplate-Holders for vertical Peugeot-Motors and CPI/Keeway/Generic/Sachs-Motors:

Numberplate-Holders from our TC-Line (Top Custom Line) which is a synonym for stylingparts of highest quality and uncompromising design.
Beyond the quality aspects this new generation of Numberplate-Holders is also very functionally, so this article comes to perfection:

Adjustable frame from 45° to 90°.
Improved position closer to the engine cover.
Processing in stainless steel with higher breaking strength instead of aluminium.
High grade varnish with strong shining colours. (Black, White, Red)
Superior quality/gloss-properties of the chrome-version because of the previous polishing.

Finally these Numberplate-Holders have a good price-performance and because of all this facts they shouldn´t be missing on any scooter.
I have also uploaded their latest product catalog in PDF format here for your.
Most of their product range can be found at e.g. Scooter-Attack, or Adrenalin Pedstop.