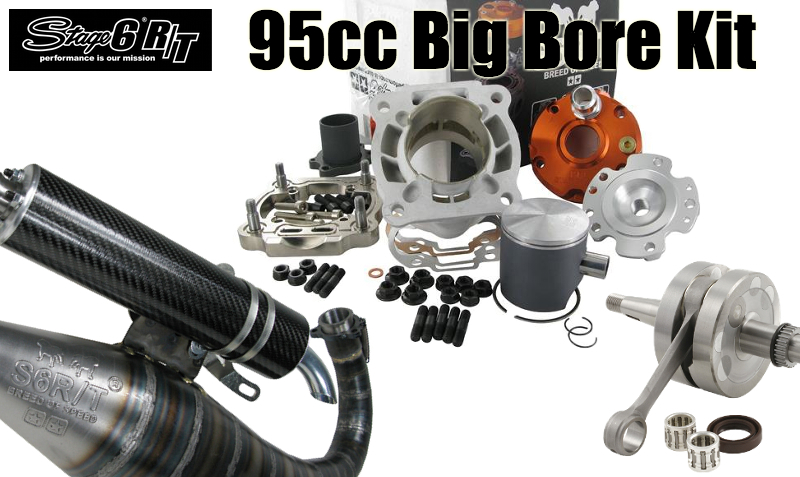 Right in time before christmas Stage6 released their massively delayed but highly anticipated 95cc big bore cylinder kit for liquid cooled 50cc Piaggio and Minarelli engines. Along with it Stage6 brought us also a beautiful racing exhaust and a high end crankshaft. Read all about it after the click!
The Stage6 R/T 70cc cylinder kit's success was phenomenal after its introduction. It is being used in drag races as well as circuit racing and the direct competitors have a hard time competing with its machined beauty and next level features. It dares to be different whilst staying within an affordable price range and it therefore ticked pretty much every box the scooterist can think off. However, recently the big bore market made a big impact on the scene, but what is that makes big bore so attractive?
Well one of the main reasons is probably the sheer amount of power (especially torque) that comes from these kits. And of course it is the scooter tuners need to push his hobby to the limit. Sure you can go with a Piaggio Maxi engine and cover even more horse power but the combination of small engines combined with affordable high end parts is what I believe makes the difference and what interests us in the big bore category.
For a long time when you heard big bore there was basically two to go to: Polini and Malossi. There were also others like TRT2Fast (the guys who pretty much started all this) or there was a long stroke crank out there from Top Performances. Stage6 however remained silent in the 70cc area only to come out now with a bang and a cylinder kit to rule them all! Read the official words below:
Cylinder Stage6 R/T BIG BORE 95cc

Based on the well-known, record-breaking 70cc cylinder, this 95cc version promises amazing power and a lot of potential for new record performances! Unlike other common tuning parts companies where "big bore" simply means that the bores have been enlarged, Stage6 has also re-designed exhaust and transfer ports, thus being able to offer a racing thoroughbred high-end big bore cylinder.

Cylinder bore has been increased by 10% to now 52mm. In combination with nearly 5mm more stroke, this provides lots of torque, at a pleasant 12600rpm. The cylinder comes with rather tame port timing; it is thus suitable for all kinds of racing series and for other uses, and it offers an ideal base for tuning.

The principle of the patented modular construction has been kept of course, ensuring that the cylinder can be used on other engines as well. A Viton® O-ring takes care of the sealing between adaptor plate and cylinder, so that the tedious cleaning of sealing surfaces and replacing of gaskets is no longer necessary. Once the adaptor plate has been mounted and adjusted via base gaskets, there is no need to re-adjust later on.

The CNC-milled adaptor plate is screwed to the engine case, receiving the cylinder via exterior studs. The system of the R/T 95cc cylinder doesn't need continuous studs; the exhaust and transfer port layout therefore doesn't face the obstructions of conventional racing cylinders, and quite a few tuning and porting reserves can be achieved.

The spherical inner cylinder head cap is screwed at 5 points and thermally stabilized via own cooling pockets. This eliminates the critical points at the studs that tend to lead to piston seizures. The coated Vertex piston offers a theoretically shorter running-in period as well as improved emergency running properties, so that small mistakes can be forgiven. The cylinder comes with a flange suitable for the Stage6 R/T exhaust system and mounting instructions.

Attention: In order to be able to install the cylinder, the engine case will have to be opened up to 58.40mm in the cylinder base area. In case of faulty or missing mounting material, please make sure to use ONLY Stage6 replacement parts; failure to do so may result in irreparable damage! You will need to use the cylinder in conjunction with a crankshaft with 90mm conrod, 44mm stroke and 14mm piston pin.
The Big Bore Cylinder Kit is available now through authorised Stage6 dealers at about 450€
One thing Stage6 never disappointed at was their high end exhaust kits. Sometimes I found they had a bit too much going on (they have the R1200, the R1400, the R/T 70 and R/T Cup (really?)) the quality however was always top notch and the looks were amongst the best. The Big Bore exhaust now is no different and picks up on the industrial design of the R/T 70 with timings optimised for the cylinder kit. Read all about it below:
Exhaust Stage6 R/T BIG BORE 95cc

The new Stage6 R/T BIG BORE 95 exhaust system has been developed specifically as the perfect counterpart for the BIG BORE 95 cylinder. In addition to the well-known high quality, it also offers great performance and is a real allrounder. It's rare that you can cover such a broad range of usage with just one exhaust system. The expansion chamber is made from 0.8mm strong sheet steel, composed of up to 18 individual segments, elaborately hand-welded in Italy. The stinger can be removed, which allows for quickly fitting in the stinger insert included in the delivery (d=18.7mm) to fine-tune the system. As usual, the pipe comes with spring-mounted carbon silencer, silent-block-mounted exhaust bracket – and now also with conically opened, 5mm shorter exhaust flange (d=30.8mm x D=32.8mm x L=40mm) as an alternative to the one included in the Stage6 R/T BIG BORE 95 cylinder kit. This offers the necessary variations to be able to adjust the system to your engine and requirements.
The exhaust is available now at about 350€
The last item of the bunch is the R/T Big Bore crankshaft. Compared e.g. the Malossi crankshaft you can find here a big bore crankshaft at a very competitive price. The Stage6 crankshaft were always manufactured at a very high level of quality. The downside on going with high end parts is that it is usually not easy to roll back to stock or mid race class parts. In the case of the Stage6 Big Bore crankshaft it is required to use a 16mm taper compatible variator. Find the press release below:
Crankshaft Stage6 R/T BIG BORE 44mm Stroke – 90mm Conrod

Now available: the 44 mm R/T long-stroke crankshaft from Stage6 in the flow-optimised Pro-Flow design. Available with 90mm forged conrod. Just like the other R/T crankshafts, this one also has a reinforced 18mm conrod journal, silver thrust washers and high-quality Torrington silver cage bearing. Furthermore, the vario-side taper has been reinforced to 16mm and can thus only be used with Stage6 Oversize, Malossi Overrange or Polini Evo Vario with the respective vario ramp plate. Included in the delivery is a 14mm small end bearing. To be able to mount pistons with 12mm and 13mm small end bearing, you will have to order them separately. The crankshaft therefore makes it possible to use the large-displacement R/T cylinders and also provides a bargain alternative to Malossi's BigBore crankshafts.

Attention: 44mm stroke and 90mm conrod
The crankcase will have to be opened up to 76.6mm! The shaft at the variator side has a 20mm diameter so that Piaggio engines require a special oil seal, which is included in the kit!
The crankshaft is also available now at about 330€!
There is no doubt that Stage6 put something exceptional together here. The kit is able to go way beyond 30hp if given to the right hands for post treatment but also out of the box you can speed up your scooter to exceptional levels. If you have the spare cash of about 1100€ for the above listed kit you can be assured to have one of the craziest machines around the block. What do you think about the Stage6 R/T Big Bore 95cc Kit? Let us know in the comments!