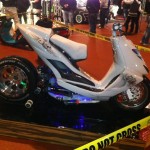 In case you've missed it. The Scooter Attack Scooter Custom show was held again this weekend in Saarbrücken. Unfortunately I couldn't make it (but I'll be in Cologne in two weeks I promise) so I have to give you the footage from others. The winner this year in the custom category was the model seen on the left. Made by Tatti from VTS Special Parts, Germany. Congratulations! More videos from the event can be found below. New footage will be made available on this page once it becomes available. So make sure to check back in and enjoy.
Update: More pictures linked from the others!
Update 2: Added the official Scooter Attack video!
Update 3: More pictures
Update 4: Added a fan video
Scooter Custom Show 2012 Videos
Update 2:
Update 4:
Scooter Custom Show 2012 Pictures
Pictures can be found on the Facebook page of M2Medien. For those who dont use Facebook, I've linked them below. Also make sure to follow TuningMatters on Facebook if you don't do so yet.
UPDATE1: More pictures can be found here, here, here and here! Facebook is needed for most of them.
Update 3: More pictures here, here and here.