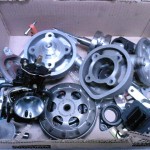 There used to be a German magazine that was taking things seriously. Sometimes it was a bit too much, sometimes it was ridiculous and sometimes I even felt bad for reading it. But wether you like pictures of 16 years old country side boys vomiting on their own scooters or not, Streetbuzz (I dare you pay them a visit) always delivered high quality tuning reviews. Unfortunately they've had to shut down business and on top of that all articles were written in German language. However, I felt there Mid Race Cylinder Kit Review is very noteworthy and I wanted to share it with you before it all gets lost. It covers the most popular mid race cylinders the Stage6 Racing, the Italkit Alu Modular, the Hebo Manston Replica and the Motoforce Racing 70cc.
So here it is the 70cc Mid Race cylinder kit review, everyone is graving for:
Setup for the 70cc Mid Race Cylinder Kit Review
Streetbuzz (click on the link for all magazines downloadable in PDF format) tested the Mid Race cylinders on a Yamaha Aerox (Minarelli horizontal liquid cooled engine). Since most of these cylinders have their peak power at 12-13.000 revenues they have installed the following parts on the scooter for this test:
The variomatic has been blocked to ensure correct results and three different exhausts have been tested with each cylinder:
Also there were no flow improvements on the engine block done and all cylinders were kept as is using the original gaskets. The P4 data sheets always show the best result (highest power) in red. Since there might be different exhaust combinations used, you'll find the exhaust model always below the diagram. Rot = red, Blau = blue, Grün = green.
70cc Mid Race Cylinder Kit Review
Stage6 Racing 70cc LC
190€ / 15,1 hp / 13.569 rpm
The Stage6 Racing was tearing up the scene when it first got released (btw there is a version 2 review available here :). At its low price and great feature set it made the established manufacturers (especially Polini and Malossi) look very old and outdated. But not only the price but also the performance exceeded the expectations of most. In combination with the Stage6 R1200 exhaust it creates a Stage6 typical (see the Sport cylinder test) very wide revenue band. Definitely a killer combo that is easy to adjust and with 10 nm torque also good for the one or other hot lap on the circuit. The T shaped exhaust port allows for improvements and there are some high end portings out there that reach the 20 horse power mark.
Italkit Alu 70cc LC
216€ / 14,8 hp / 12.288 rpm
The Italkit Alu was in the early 2000's what Stage6 cylinders are nowadays. A great performing cylinder at a very reasonable price. In fact Italkit is tightly working together with the cylinder factory Gilardoni who also makes the Polini evolution cylinders. The cylinder features a traditional oval shaped exhaust port and produces a staggering 10 nm torque in combination with the Stage6 R1200 exhaust. I bet there are quite a few guys out there who would have not expected this (including me) from such a port design. Recent price drops among the other manufacturers seem to have not been adopted by Italkit and the cylinders seem a bit outdated feature wise at this price point. It is however a great basis for a traditional porting project.
Hebo Manston Replica 70cc LC
190€ / 14,7 hp / 12.713 rpm
The Manston Replica is a bit of a disappointment offering only a very small peak power band and low torque. Porting would help to increase the overall power but given the price the Manston Replica is most likely the worst choice of them all. The modular concept will allow for more porting but out of the box this kit can not be recommended.
Airsal Racing 70cc LC
150€ / 14,1 hp / 12.256 rpm
Once again the Stage6 R1200 is your best choice in combination with this cylinder kit. Surprisingly Airsal is using a two piston ring solution on this kit which should allow for a higher compression and therefore more torque. Unfortunately the torque is kept low at about 8,5 hp and an overall very narrow speed band. The T shaped exhaust port however allows for a lot of tuning but it should be considered to replace the piston with a one piston ring version when the revenue increases to reduce friction and therefore heat. It is a bit of an odd decision pairing Alu Nicasil and a T-Port with a two rings piston and I believe also the only one on the market.
Motoforce Racing 70cc LC
145€ / 13,5 hp / 11.927 rpm
The cheapest kit of them all also offers a very wide speed band even though its maximum horse power is kept rather low. Utilizing a single ring piston and a triple outlet port shape known from Polini Evolution 2 and 2Fast this cylinder allows for interesting porting options and potential to increase the maximum revenue. At the very low price this kit should be a lot of fun to port and maximize without breaking the bank when it fails.
Conclusion
Wether you like it or not, the Mid Race cylinder Kit Review shows that Stage6 delivers a cylinder kit with an absolutely stunning speed band when using the R1200 exhaust in combination. The only cylinder that comes close to such a wide speed band is the Motoforce Racing it however showed the lowest peak power of them all. The Hebo Manston Replica is the biggest disappointment for me in this Mid Race Cylinder Kit Review. The T bridge exhaust port allows for porting tho and the modular head and the one ring piston should be safe to use even for maximum porting.
Missing in this test are the Malossi MHR Replica and the Top Performances Due Plus and TPR. I would have also liked to see the real Malossi MHR and MHR Team Replica in there. My guess is that they would not be that far in front of the Stage6 racing… It is also always to be kept in mind that Streetbuzz and Scooter Attack aka Stage6 are very close to each other and all these test are of course slightly biased (the whole magazine sometimes reads like an extended Scooter Attack ad. ;)) That means that some other exhausts might have even outperformed the Stage6 R1200 (except of the Stage6 Racing and R1200 combo since they were made for each other).
(P4 Results source: Streetbuzz Mag No. 9)
Stage6 Racing & Stage6 1200 on Minarelli LC

How did you like this article? What Cylinder Kit do you have? Have questions about getting a 70cc cylinder kit? Let me know in the comments or forum and I will for sure get back to you!