Malossi surprised everyone at EICMA this year, presenting a complete MHR engine to the public. The Malossi C-One will be available in March 2014 and features of several new components. Read all about it after the click…
Malossi C-One MHR Engine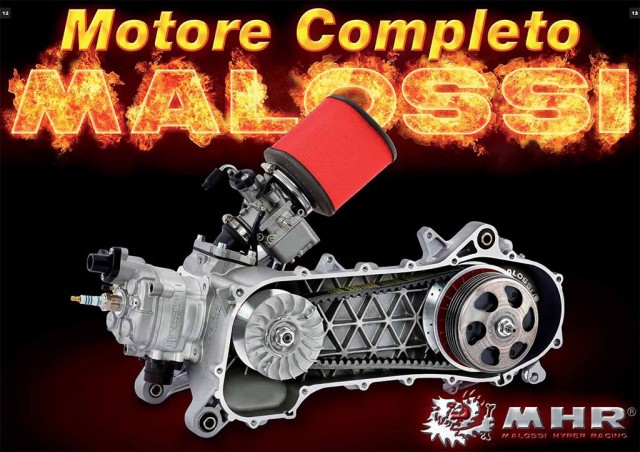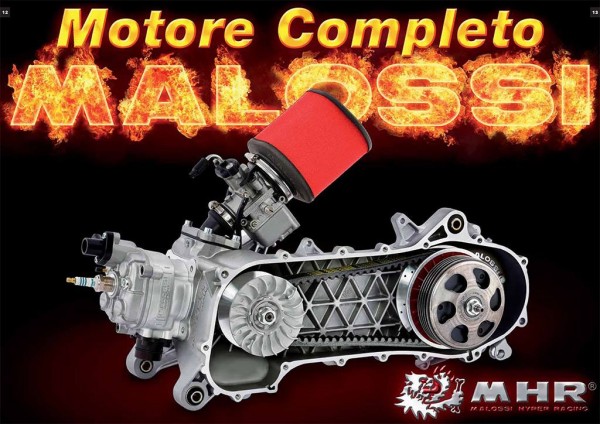 Malossi had to drop a bomb soon or they would fall behind. This was clear last year at their EICMA announcement. And guess what? They dropped nukes this year. For the first time ever, a tuning parts manufacturer release a complete engine based solely on parts developed in house. Most notably the C-One engine housing, which allows them to build a new 2014 MHR Cylinder Kit. The 2014 MHR Team lets the Stage6 R/T Big Bore look like stock goods. The engine housing and cylinder kit is for now only announced in a (long) Piaggio version, so Minarelli riders need to pray and hope. A pricing is not yet available but Malossi states on their Facebook page:
There is still no official price for C-one nor the engine, thus we can already say that it will be an interesting price!
I estimate the whole engine setup to be somewhere between  2-3000Euros, and the engine housing alone in the 500Euros area.
Malossi C-One Engine Housing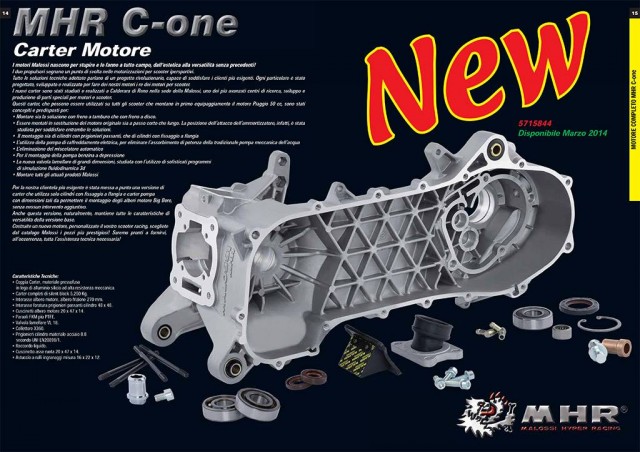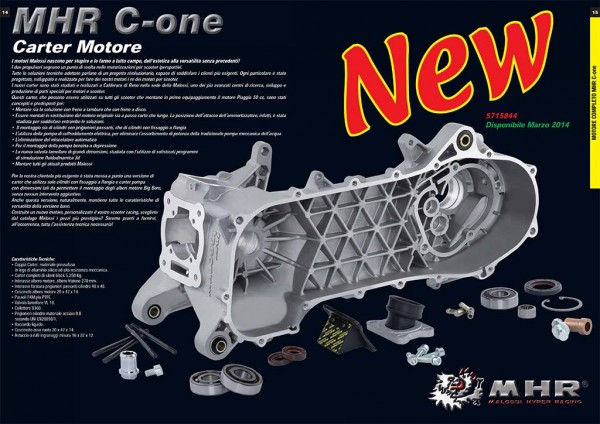 The Malossi C-One engine housing shows several improvements over the stock Piaggio engine housing. The shown housing is the long (Gilera Runner, NRG, etc.) version. It is unclear if a short version for e.g. Zip SP, will be made available.
The cylinder base area is of special interest. Heaps of material was added to allow for port flowing and plug and play mounting of the MHR Team cylinder foot. This means, that there will be no machining necessary anymore.
Threats for external cylinder studs were implemented to fit the new Malossi MHR Team 2014 cylinder kit. External studs allow for better cooling and even bigger cylinder sizes.
Apparently, the crankshaft housing was prepared to mount a long stroke crankshaft. It is unclear, how this affects the old Malossi Cylinder kits, which were only using a 85mm conrod and stock crankshaft diameter.
The inlet port was prepared to fit the Malossi MHR VL18 intake and ships with the housing. It seems to be a new model specifically designed for the C-One.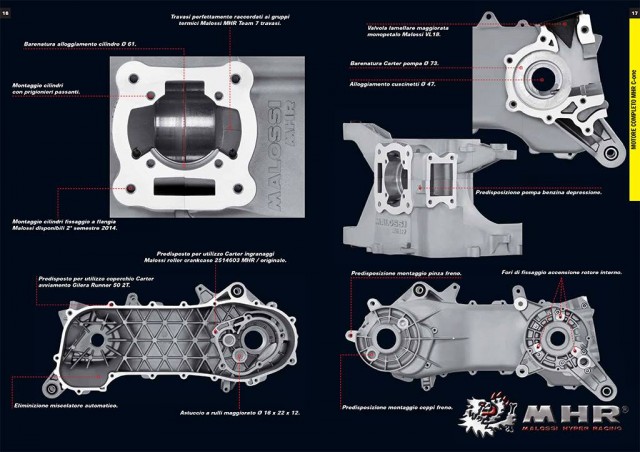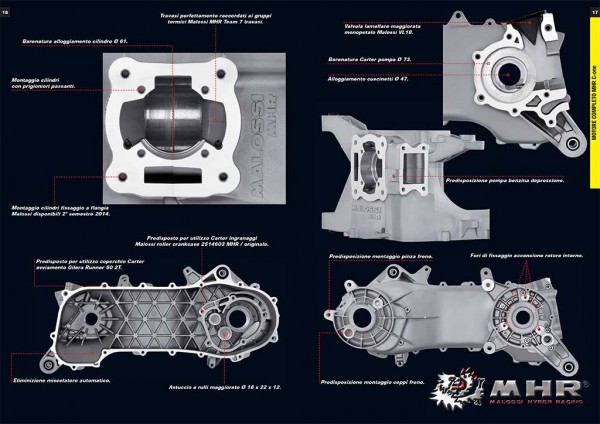 Smaller improvements include the removal of the electronic starter, improved rigidness and of course perfect integration of other MHR parts like the MHR Overrange Transmission Red Fury and the MHR Inner Rotor Ignition.
Malossi MHR Team 2014 Cylinder Kit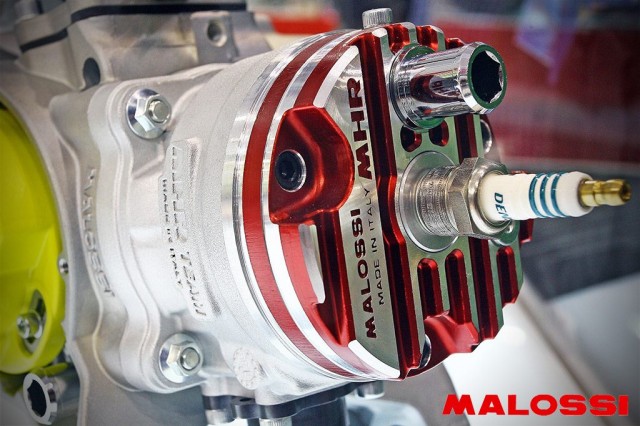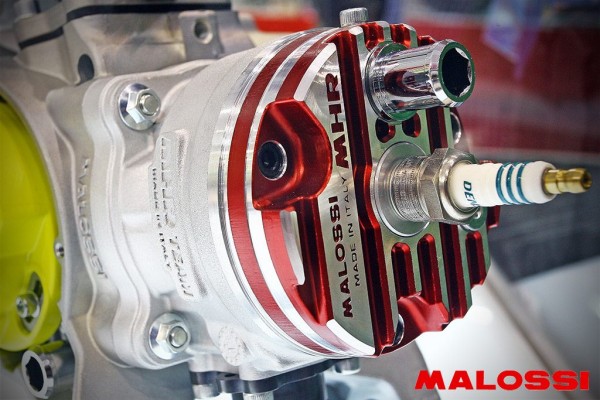 Heart of the new Malossi C-One engine is the MHR Team 2014 cylinder kit. Clearly targeting the current Stage6 R/T customers, we have to admit that this cylinder is lifting the Stage6 R/T off of its throne. The looks of it are magnificent.
The cylinder kit features a red annodized, modular CNC cylinder head. The traditional inner stud design was replaced by external studs as known from the Stage6 R/T. The external studs help to reduce the heat and allow for an increased piston diameter. As with the MHR Team 2012 cylinder kit, this cylinder features the oval shaped MHR exhaust flange, which can only be used with the matching MHR exhaust.
We can't wait for the big bore version to be announced!
Malossi MHR C-One Disk Brake and Caliper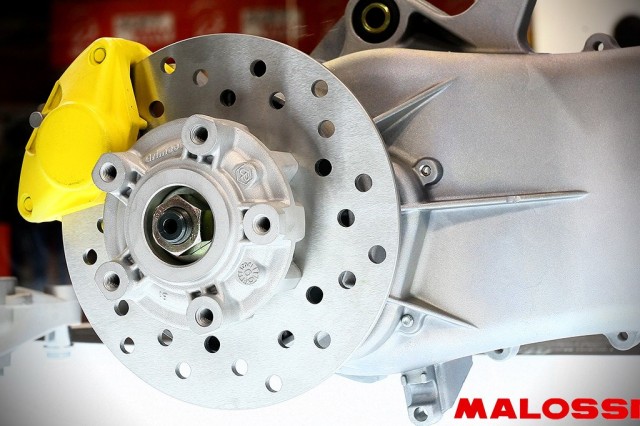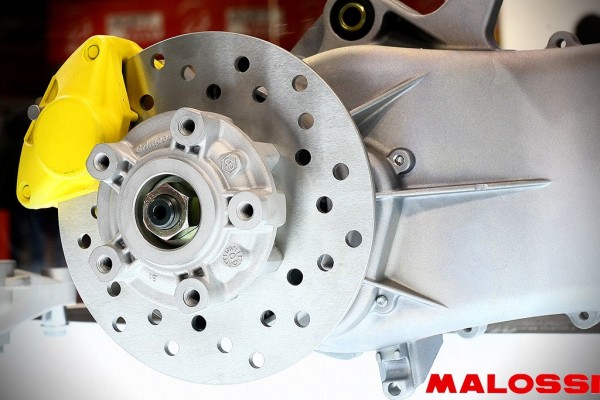 The other jaw dropping newness of the C-One engine is its magnificent new caliper and disk brake. We don't know much about it, but the yellow paint should give a hint that Malossi will be releasing a caliper dedicated to this engine in 2014. Even tho the disk brake looks like a stock Piaggio one, we believe Malossi will incorporate its Whoop Disk design here. A rear disk brake will be a novelty, if the engine housing will also be made available for Zip SP (short Piaggio engine).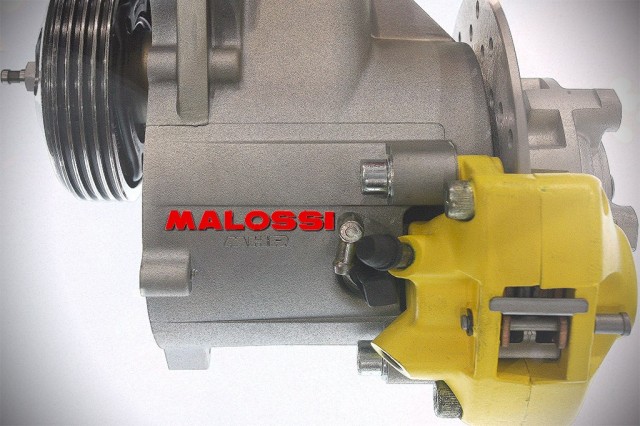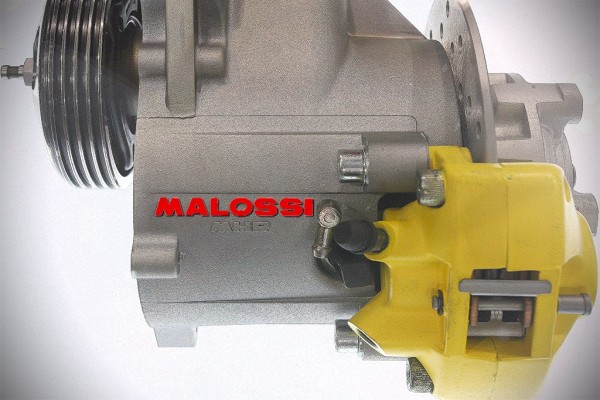 Other Malossi C-One Engine Improvements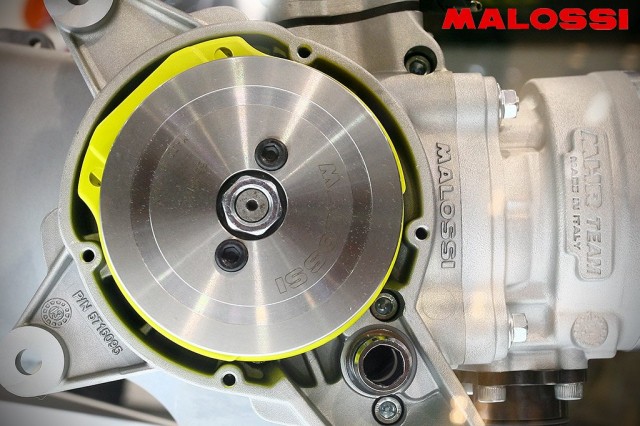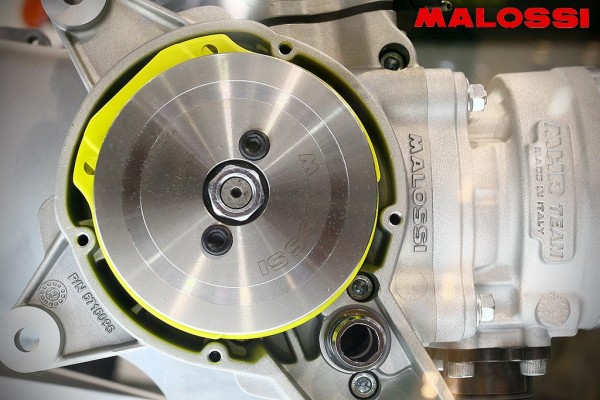 The Malossi MHR Inner Rotor Ignition seems to receive special attention in the shots from Malossi. Malossi indicated in their spec sheet that special mounting points have been included in the engine housing for the ignition. More details are pending.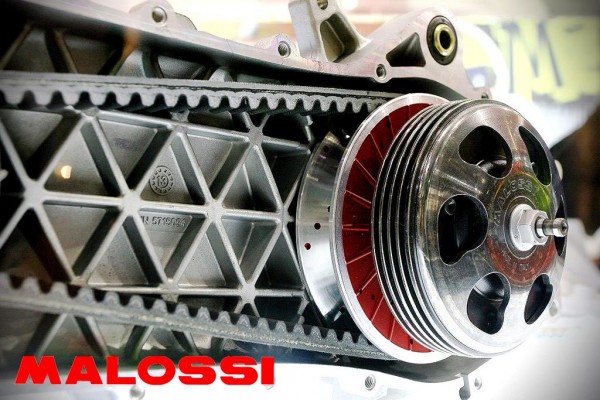 The C-One engine is of course prepared to be used with the Malossi Red Fury OverRange Kit. The used clutch bell on the picture seems to be a new CNC model. There is no more information available about this item tho.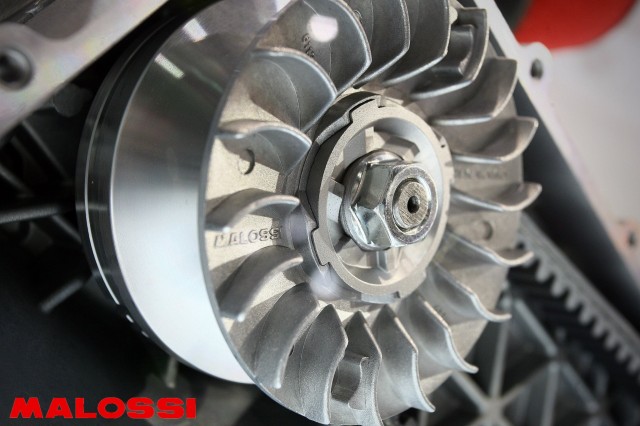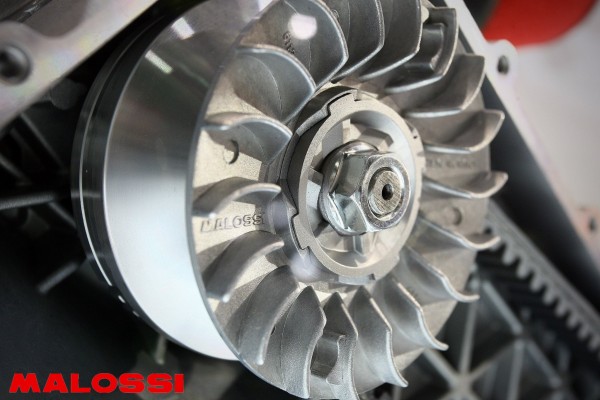 Conclusion
Malossi dropped a bomb here with this announcement. They sure have been busy, and understood what's happening in the market. I had my doubts over the last years to be honest. Stage6 were doing all things right, whilst Malossi just remained in the stone age, technology-wise (the exception was the new OverRange Kit). However, with this release Malossi slingshots itself back to the top. A great product everyone will be craving for, with features that can't be found anywhere else on the market. This release is what a scooter tuners dreams are made of. It will now be up to Polini to come up with some major improvements…
2014 will be an interesting year for sure. We are looking forward to it!
What do you think about the Malossi C-One Engine? Are you getting one, or sticking with Stage6 R/T? Let us know in the comments!